Before we begin, please press play on the following video to accompany your reading.
---
---
Our friend and colleague David Zimmerman pointed us to a just published study on the impact of birdsong on mental health; Birdsongs alleviate anxiety and paranoia in healthy participants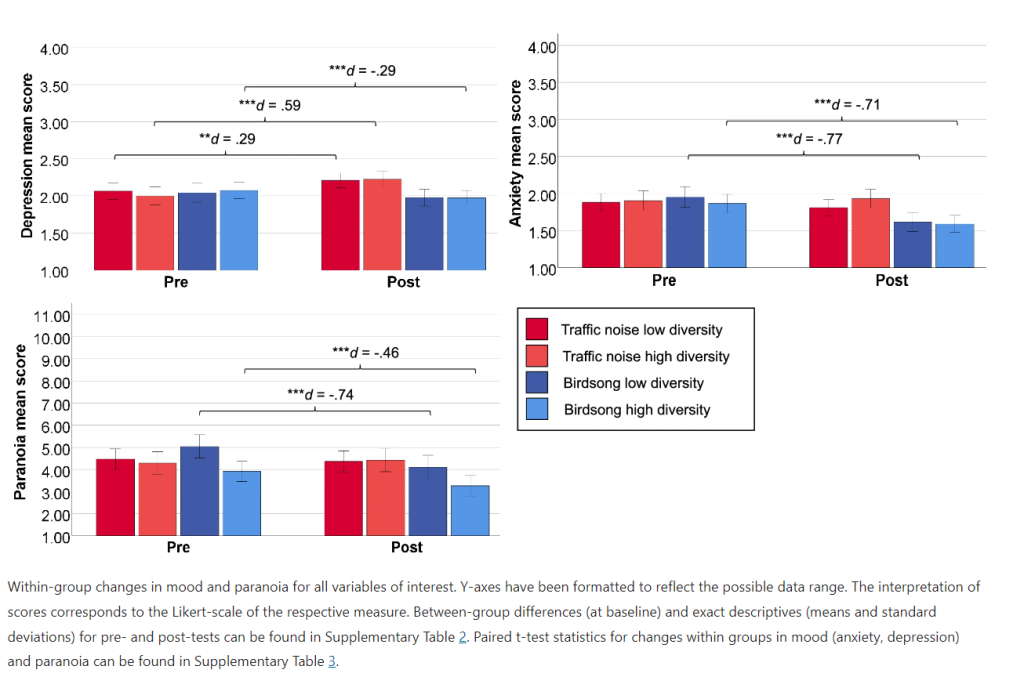 The study was about how sounds can affect mood, state paranoia, and cognitive performance. The researchers thought that birdsongs would lead to better outcomes. They also wanted to explore how different kinds of soundscapes (with different numbers of traffic sounds or songs) might have different effects. In an experiment, there were 295 people in 4 groups. Each group listened to different sounds for 6 minutes. The sounds were either low or high traffic noise or low or high bird song. Some tasks and questionnaires about their feelings were done before and after the experiment.
The traffic noise soundscapes were linked with a significant increase in depression. Depression decreased after exposure to the high diversity soundscape for the birdsong conditions. Anxiety and paranoia significantly decreased in both birdsong conditions. For cognition, no effects were observed (see results at right from the article)
This study found that listening to birdsongs can help reduce anxiety, while traffic noise is related to higher levels of depression. This is the first time that it has been shown that the medium-sized effects of birdsong soundscapes can reduce paranoia. The results of this study have some interesting ideas for future research.
So why should you work with Dawn Chorus?
The evidence is clear. Birdsong can reduce your depression and anxiety. Let us skilled evaluators and researchers and enthusiasts help you with your community-based learning and measurement challenges.
Let us reduce your anxiety.
The best way to contact us is to click on the "let's get started" button in the upper right-hand corner. That will take you to a survey that assesses some of the needs that you might have.